If you have just started playing the game of chess, you will want chess sets that will last for a long time. Usually the more expensive the set, the longer it will last. Do you want a set that you will play on extensively or one for decoration such as collector sets? How you use the set will basically determine how much you want to spend on it. The sets in use today havent changed much from past times. Shop around and enjoy some of the different and beautifully designed chess sets in the world today. You are bound to find that set that is right for you.
A complete line of chess sets and chess pieces, from small travel and analysis sets to large patio chess pieces. You can find tournament sets, both wood and plastic, or decorative and themed chess pieces for play or display.
You will find here sets made from all kinds of material, and in any style imaginable.
Revelation II with Ebony Pieces Luxury Wooden Chess Set and Integrated Chess Computer
Play against the strongest chess programs. Play at a real wooden board and pieces. Analyze your games using famous world class chess engines. Play against internet opponents. Broadcast your games live via the internet. Optional Emulation Retro Engines.
ChessCentral now offers the new French Knight design pieces at a very conservative price. This Staunton pattern wooden set comes with a 3 inch King.
The board is a perfect matching size of 1.5 inch squares. The board has a veneer top of Ebony and Maple and is 14″ x 14″. Truly a beautiful board to accent your new French Knight pieces. You won't find a nicer wooden set and board at this price!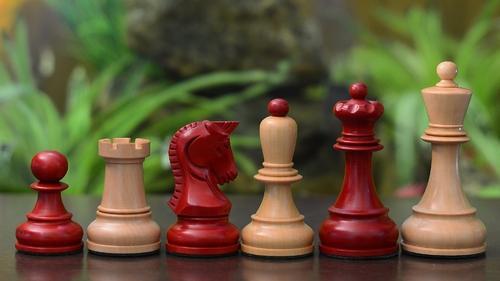 Tournament Chess Set
Tournament Chess Set – Deluxe. 34 piece triple weighted Staunton plastic chess pieces (2 extra Queens!) * Tear-Resistant Vinyl roll-up board in your choice of colors * Chess Tote made of durable canvas to carry your set * Includes the Timekeeper Quartz clock * Great starter set for kids and adults!
Strato 3D Chess
trato 3D Chess. Strato Chess offers a challenge not to be found in the traditional game of chess. Here, you play in three dimensions instead of two. Each player must think of the game in terms of left and right, forward and back, as well as up and down, as the pieces are suspended along three planes of space. Players risk being attacked from above and below as well as from the traditional two dimensions. Strato Chess is three times the challenge for any chess lover. It will put your powers of concentration to the real test! Board is 10.5″ high and made of brushed aluminum with black and clear playing surfaces. Chess boards are 8″x8″. Take your chess game to the third dimension!
Quality Giant Chess Set
The giant chess pieces and board is perfect for playing chess outdoors, in your garden, sandy beach and playground. Made with all weather plastic that resists heat, cold and the elements.
African Chess Sets
African chess sets can be the perfect gift. They are usually made from resin, exotic wood, or crushed marble. The sets often represent an animal that is native to the country. Most don't play on them, but keep them as a collector's item. The animals that inhabit Africa are usually made in great detail in the chess sets.
Standard Walnut Chess Board Packages
These complete chess set packages include a set of and our high quality Staunton chessmen and Standard Walnut and Maple Chess Board. Black chess pieces create a nice contrast with this chess board while the color of golden rosewood chessmen are a perfect color match with the walnut. Select from a wide range of models and sizes to fit anyone's taste and budget.